Subtitled "A Weary Old Ford Pickup Rests under an Hawaiian Rainbow", this vibrant open edition laser print was created, printed and packaged on the Island of Maui. The small edition measures 8x10 inches and comes mounted in an 11x14 inch double mat. The Large Edition print measures 11x14 inches and comes mounted in a 16x20 inch double mat. The standard outer mat is white while the inner black mat forms a border accenting the print's vibrant colors. If you wish you can select a custom inner mat color at no additional cost. Click on the link to the left to see this print presented in a variety of mat colors.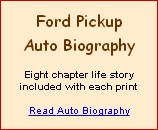 Each print comes with a free eight chapter story in which this classic old Cruiser icon recounts its long and fascinating life. From the day it first rolls off the Ford assembly line, the Pickup lives an exciting and adventurous life intertwined with historical events and contemporary figures of the time. Inevitably the ravages of age set in however, and the old truck is abandoned -- only to be miraculously rescued and find a new life as a beach Cruiser. The final chapter finds the old Ford Pickup now resting peacefully under a rainbow on the beach. We invite you to preview the intriguing Auto Biography that accompanies this print.
All Cruiser Art prints are professionally printed on an industrial heavy duty laser print in order to achieve the most precise color reproduction possible. The colors are breathtaking and compare with the level of quality usually found in prints costing considerably more. The small size (mounted in an 11x14 mat) is printed on premium quality 60lb paper. The Large Edition (mounted in a 16x20 mat) is reproduced on a special Linen Weave textured paper. This exceptional paper gives the print a canvas-like appearance. There is no way to show the textured effect on the computer monitor, however it creates a truly stunning presentation.