Subtitled "A Dodge 'Lodge' Sets Up Camp on a Secluded Hawaiian Beach", this vibrant open edition laser print was created, printed and packaged on the Island of Maui. The small edition measures 8x10 inches and comes mounted in an 11x14 inch double mat. The Large Edition print measures 11x14 inches and comes mounted in a 16x20 inch double mat. The standard outer mat is white while the inner black mat forms a border accenting the print's vibrant colors. If you wish you can select a custom inner mat color at no additional cost. Click on the link to the left to see this print presented in a variety of mat colors.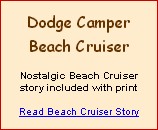 Since the advent of the automobile age a century ago, the beach cruiser has become a nostalgic presence found along ocean shorelines worldwide. Usually old, and always rusted, the beach cruiser is an integral part of the beach and surfing culture. To those who cast only a cursory glance, the cruiser is often seen as no more than an unwelcome eyesore. But to those who look beyond its rusty and faded skin, the cruiser is truly the embodiment of a unique lifestyle marked by sun, sand, salt and surf. Leisurely passing time with fellow cruisers while their owner searches out that perfect wave is truly Paradise – the Paradise of a beach cruiser.
All Cruiser Art prints are professionally printed on an industrial heavy duty laser print in order to achieve the most precise color reproduction possible. The colors are breathtaking and compare with the level of quality usually found in prints costing considerably more. The small size (mounted in an 11x14 mat) is printed on premium quality 60lb paper. The Large Edition (mounted in a 16x20 mat) is reproduced on a special Linen Weave textured paper. This exceptional paper gives the print a canvas-like appearance. There is no way to show the textured effect on the computer monitor, however it creates a truly stunning presentation.